Here are 5 Bible stories you should never forget!
The Bible is a vast and complex book. It contains history, mythology, poetry; the Bible teaches lessons of faith and resilience as well as those of intolerance and hate; it even gives instructions on what sort of plants you should and shouldn't eat. But despite all these lessons and teachings, throughout the entire Bible, there are only 5 Bible stories you should never forget. These stories are the most remembered and most impactful moments throughout all of history.
Adam and Eve
The first is that of Adam and Eve. This story speaks to one of humanity's greatest fears: that we are never good enough for God. Despite being created by God, they chose to rebel against their creator by eating from the tree of knowledge. In doing so, they not only act as a catalyst that brings about humanity's first act of evil. They've also brought an end to their own innocence. Although humans search for ways to gain back God's trust, we can never truly reach perfection.
Noah and the Flood
The second is the tale of Noah and the flood. Arguably one of the most famous stories within all of history, this myth speaks to issues regarding divine justice. God, angered by the immorality of humanity, decides to bring an end to life as we know it. However, God can't seem to decide on whether or not he should kill every living creature on the planet (including women and children) or just allow everyone to live, but with wild animals running around eating anyone they come across. Eventually, God comes to the conclusion that he will destroy everyone except for Noah and his family.
He then orders Noah to build an ark so that he can protect them from the flood. After months of pouring rain and people drowning all around him, Noah and the rest of his family find themselves face to face with God. They make a sacrifice in order to show their gratitude for being rescued, thus saving humanity from extinction.
Abraham and Isaac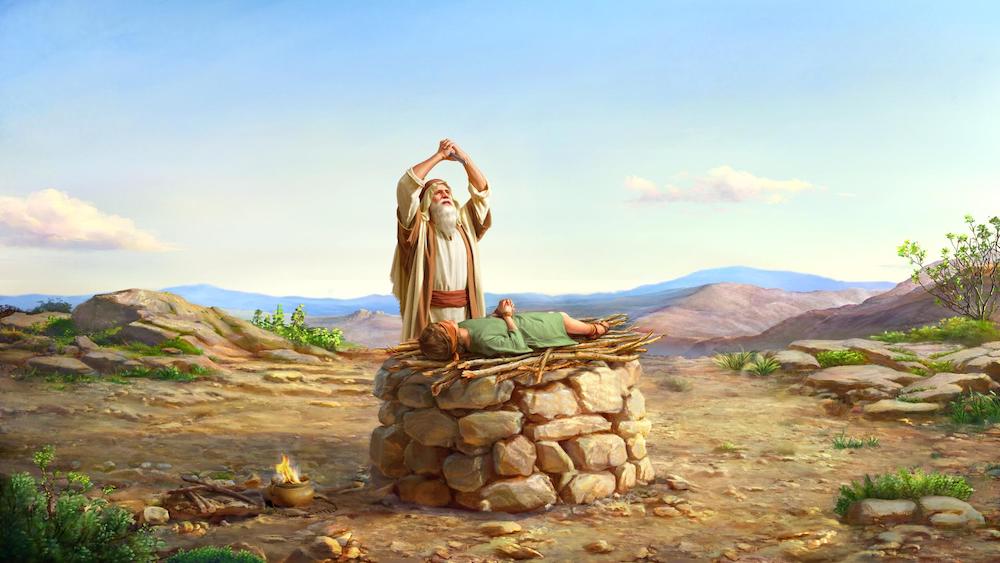 The third is the story of Abraham and Isaac. This tale addresses issues regarding obedience and faith. God comes to Abraham one day and commands him to make a sacrifice, but not just any sacrifice. This time, He wants the best of the best. God isn't interested in killing animals this time around, though; instead, he demands that Abraham kill his own son as an offering. Now what kind of father would do such a thing? After all, Abraham and Isaac have a pretty sweet deal going.
They live in tents made out of animal skin, run around the desert together every day, have awesome adventures with their friends – I mean, what could possibly make this guy kill his son? Apparently, it was nothing more than God's orders. When Abraham prepares to carry it out, an angel of the Lord tells him to stop. Abraham has passed the test and is rewarded with a covenant from God. Isaac gets a new name (Israel) and his descendants are promised riches and power throughout all generations.
Moses
The fourth story is that of Moses. This tale addresses issues regarding good vs evil and freedom vs bondage. After being taken from his family, raised by Egyptians, and exiled for killing a man to protect a slave, Moses finds himself standing face to face with God on Mount Sinai. God commands him to go back home and lead the people of Israel out of slavery in Egypt where they will become free men under their own terms. Initially, Moses doesn't believe he is capable of such a task, but God presses on and demands that he return home to fulfill his calling. In the end, Moses does as he is told and leads the Israelites out of Egypt where they will become their own nation for thousands of years.
The Prodigal Son
The final story in this list is one that many people are not familiar with. In fact, this isn't a story from the Bible at all – it's a parable from Jesus. A farmer is sitting in front of his three sons and explaining how he will divide his inheritance among them. He tells them that one day he will die, but before doing so must give each son their share. The farmer tells his first son that he will receive a portion of the inheritance while his other two sons must split their father's portion. Afterward, all three boys go their separate ways in life.
Years later, the farmer dies and divides up his inheritance according to what he had said earlier. Upon finding out the news, one of the sons protests claiming that this is unfair. According to him, his father was supposed to give him a bigger share, but instead, he only gets a third of what he should have been given.
The farmer then turns to his other two children and tells them that they have saved their father's life by sharing their inheritance with each other. He goes on to explain that none of them should have received all of his inheritance because he would have died before splitting it up. By giving his first son a patrimony, he is able to save the farmer's life and set him free from bondage. As for the other two children who were given nothing, they are now their father's slaves.
And that, my friends, is the story of the prodigal son.
Final Thoughts
As you can see, these 5 Bible stories you should never forget are full of life lessons and examples to be followed. They teach us how to deal with issues like family relations, love, faith in God's plan for us, trust, and the importance of self-sacrifice. All four stories offer something unique to each individual reading them, but they all contain a common message: we should never forget these lessons because they can be used in our everyday lives.
Check out some of our other posts!