The Bible tells us that the sum of God's thoughts about us is unbounded, like the number of particles of sand on the planet. It has been computed theoretically (seven sextillions), but the comparison suggests that it is inexhaustible.
Just try to picture how it would feel to fathom the thoughts of God as He guides countless angels and keeps countless galaxies moving. What would it be like to overhear conversations in the universe's court?
"'For my thoughts are not your thoughts,
    neither are your ways my ways,'
declares the Lord.
'As the heavens are higher than the earth,
    so are my ways higher than your ways
    and my thoughts than your thoughts.'" (Isaiah 55:8-9)
What Are God's Thoughts?
In the above passage from Isaiah, God makes it quite plain how far apart our earthly minds are from His transcendent understanding.
Adam and Eve were the first of humanity to interact directly with God and were permitted to access the tree of life. This tree represented the Holy Spirit, through whom God bestows knowledge of Himself and access to everlasting lives.
However, we often choose fleeting delights above God's everlasting vision because of our flawed human nature.
Adam and Eve displayed this by eating from the tempting Fruit of the Tree of Knowledge of Good and Evil. They disregarded God's mandate because of their personal short-sighted, self-centered interests. By consuming the fruit from the tree of knowledge of good and evil, they set in motion a chain reaction that would eventually separate them and their offspring from God's mind and thoughts, as Isaiah says: 
"But your iniquities have separated
    you from your God;
your sins have hidden his face from you,
    so that he will not hear." (Isaiah 59:2)
Our species has strayed from the path of harmony and equality as its members have sought their understanding of good and evil. We have severed our connection with God's consciousness.
What Does God Think Of Us?
"Many, Lord my God,
    are the wonders you have done,
    the things you planned for us.
None can compare with you;
    were I to speak and tell of your deeds,
    they would be too many to declare." (Psalm 40:5)
God must be thinking much about you and me, much more than we can count. He thinks about us constantly because we are so precious to Him.
"'For I know the plans I have for you,' declares the Lord, 'plans to prosper you and not to harm you, plans to give you hope and a future. Then you will call on me and come and pray to me, and I will listen to you.'" (Jeremiah 29:11-12)
His thoughts, according to Jeremiah, are not wicked but good, bringing joy and comfort. He intends for our destiny to be one of bountiful prosperity and the realization of our deepest aspirations. He is not in His royal chamber muttering and griping about our decisions and behaviors.
His chosen ones are not the target of His criticism and condemnation. Furthermore, He likely considers our propensity to struggle from shame, as remorse is cloaked in humiliation and is an adversary. Since God forgives and sets us free from our sins, we may live freely. He will show us our wickedness and compel us to repent, but he will not condemn us into obedience.
A Window Into God's Thoughts
God has provided humankind with a window into His mind: the Bible is a revelation of His thinking, which He prompted men to write down.
God's standards for good and evil are spelled forth in the Scripture. In Deuteronomy, He handed us His righteous rules to follow. He reveals the path to redemption and everlasting life, the harmony route.  The Bible has a wealth of useful advice that we may put into practice to ensure that everything functions as it should.
Despite having the Holy Book at our disposal, we still lack a complete picture of God's character. God lamented after delivering the Ten Commandments to Israel's people, saying:
"Oh, that their hearts would be inclined to fear me and keep all my commands always, so that it might go well with them and their children forever!" (Deuteronomy 5:29)
The Scripture is testimony that God, in His infinite understanding, has a purpose to imbue us with such a spirit. If we genuinely want to know what He is thinking, He desires us to possess a spirit and intellect like His.
Even though the Bible is full of wonderful truths, God reminds us that certain parts might be difficult to grasp. Before receiving the Holy Spirit as a blessing, even Jesus' disciples did not fully understand some matters.
Paul writes it so clearly in First Corinthians:
"The person without the Spirit does not accept the things that come from the Spirit of God but considers them foolishness, and cannot understand them because they are discerned only through the Spirit." (1 Corinthians 2:14)
God plans to reveal Himself and His truth to all and then guide us to reconciliation at the exact moment that's best for us individually. For the sake of receiving the grace of the Holy Spirit and understanding God's thoughts, the apostle Peter sternly urged people whose hearts were shattered by the realization of their wrongdoings:
"Peter replied, 'Repent and be baptized, every one of you, in the name of Jesus Christ for the forgiveness of your sins. And you will receive the gift of the Holy Spirit.'" (Acts 2:38)
The Holy Spirit is the missing link that allows us to communicate with God and gain an understanding of His identity and intentions. God desires that we become Christlike in our thinking. He desires for us to hold the same eternally-minded, logical viewpoint that He does. He desires to encourage us to imitate the good, helpful, and loving deeds that He does.
Does God Know What We Are Thinking?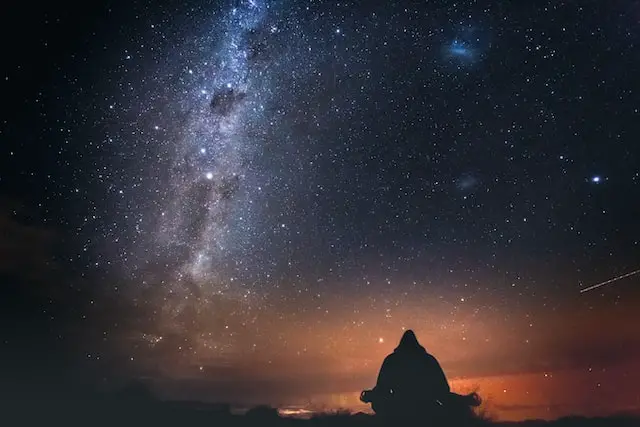 Unless we verbalize things, no other human can know what we're thinking. The material reality only sees what we want it to perceive, and since our minds are full of all kinds of ideas, we have to screen out the unpleasant, nasty, weird, and wicked ones.
No matter how well we prevent the outside world from knowing our innermost thoughts, there is still one who is privy to them all: Our Creator.
Since God is all-knowing, He is aware of our thoughts, whether pleasant or terrible, positive or negative, beautiful or hideous, or perhaps even wicked. We can't hide anything from him; he will know our thoughts. David reveals this to us in Psalm 139:1-2:
"You have searched me, Lord,
    and you know me.
You know when I sit and when I rise;
    you perceive my thoughts from afar."
David's teaching teaches us that the Lord cares deeply about our thinking, despite the complexities involved, and that He uses His infinite wisdom to comprehend completely and repeatedly brings this truth to our attention.
As flawed and fallible humanity, so are our views, which is why God's always at our sides, ready to help us turn our bad ideas towards something amazing.
Because God is all-knowing, as well as our thinking, many of us might feel threatened by this truth.  Instead, we need to thank God's omniscience because it is through this that our loving God can direct us to the righteous trajectory.
Check out some of our other posts!