The Merriam-Webster Dictionary defines control as "to have power over." Humans, being the individualistic creatures that we are, thrive when we decide how to accomplish our goals. Our species thrives on organization and forethought.
When things don't go as expected, we may experience various negative emotions, including disappointment, discontent, anxiety, sadness, and even anger. Our expectations about how our lives would unfold may have been off.
However, what does the Scripture teach about control? Do we have to plan our lives to the smallest detail and then hold on to the hope that it will all come to fruition? Is it expected of us to live organized, methodical lives? No, not quite.
Ways to Let God Take the Wheel of Your Life Right Now
Many of us have a hard time giving over control to God because we were taught from a young age that we need to make plans and put in plenty of effort. But no amount of preparation will safeguard us against the temptations and difficulties that life always presents. 
When confronting challenging conditions, we must strike a balance between being overly rigorous and complacent or indifferent. How can you let go of worry and let God handle things today?
Let God handle your situation by praying about it.
"Cast your cares on the Lord and he will sustain you; he will never let the righteous be shaken" (Psalm 55:22).  
It is surprising how many of us would attempt to find a solution to a problem before we have prayed about it. Through faith and prayer, we have to hand over the control of our circumstances to God. 
When we come to terms with the fact that we depend on God, He transforms our hopelessness into something more like optimism. When we humble ourselves in front of God through prayer and fasting, we develop the capacity to find patience in his presence.
Shun evil ideas from entering your head.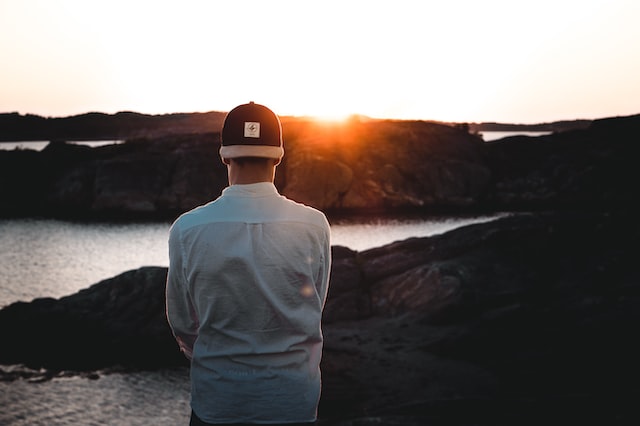 "Casting down imaginations, and every high thing that exalteth itself against the knowledge of God, and bringing into captivity every thought to the obedience of Christ" (2 Corinthians 10:4).
No matter what happens in our lives, the Devil will never stop trying to poison our brains with evil and poisonous ideas. We need to train ourselves to discern his deceptions and then confront ourselves, our families, and our friends with the truth found in the Bible.
The devil's strength is limited, and he cannot remain in the presence of God's message for an extended period. You shouldn't be scared to utilize the Bible to keep your trust and hope in God's ability to manage your life strong.
Take time daily to study the Bible and reflect on God's Word.
"The works of his hands are faithful and just; all his precepts are trustworthy" (Psalm 111:7).
It is easy for us to become distracted by the duties of daily life and forget how vital and crucial the word of God is for our lives and the lives of our families. When we reflect on His word via reading and meditation, we are reminded that He will watch out for us and ensure that everything works for our benefit. The assurance that His word provides allows us to relax our grip on the situation and put greater faith in God.
Forsake your efforts to exert control apart from God.
"Repent at my rebuke! Then I will pour out my thoughts to you, I will make known to you my teachings" (Proverbs 1:23).
Because we've made mistakes and are attempting to the right them, some of us have a hard time letting go of control. But unless we reach a point of repentance, things will only become worse. Repentant people who seek the Lord's guidance will find it. We must humbly own our dependence on our strength rather than God's and actively seek to shift that dependence.
Take advantage of the assistance God sends your way.
"All of you, clothe yourselves with humility toward one another, because, 'God opposes the proud but shows favor to the humble'" (1 Peter 5:5).
People's ego is revealed when they believe they can successfully steer a difficult circumstance. Despite this, we transform when we approach others humbly and ask for assistance through intercessory prayer or monetary contributions. When we allow ourselves to be vulnerable, God is glorified, and others can strengthen their faith through generosity. Even so, we can only benefit from God's assistance if we are open to it.
Recommit yourself to enduring this test in Christ's name.
"But my righteous one will live by faith. And I take no pleasure in the one who shrinks back" (Hebrews 10:38).
It is through our deeds that God reveals how much confidence we have in him. Whether we believe everything is in control or utterly out of control, we must return to the location of our commitment to God. Ultimately, it is His honor that we want to achieve via our lives. When we commit our lives again to Christ, we make room for Him to work in our lives as He sees fit and in His time.
Exercising gratitude daily.
The Lord is very gracious. Approach God with gratitude even if you find it hard to maintain control. Don't forget to thank God for everything He's done.
When you're appreciative of someone else's help, you're more able to let go of the reins. Thank Him for everything, even the little things you couldn't change. You can praise God, for instance, that you don't have to tend to the garden today because of the rain.
Start a prayer journal.
It is helpful to have a prayer notebook to record your petitions to God and His responses. It's a way to give up control and pray for God's assistance in letting go of your anxieties. Declare your gratitude to God and shift your attention from what you lack to what you do have.
When I surrender my will and allow God to operate mightily in my life, I am continuously reminded of God's faithfulness and amazed at how he appears.
Try meditation.
The practice of meditation is another method to offer it up to the Lord. When you're feeling overwhelmed or nervous, it might help to repeat a Bible passage or a trait you associate with God as a mantra. You may take a breather, relax your thoughts, and get a fresh viewpoint with this aid.
Stopping to take deep breaths is a great way to continually remind yourself to release your problems to God. Get rid of all the unnecessary stuff and concentrate on your breathing and the here and now. Therefore, rest in God's sovereignty.
Remember that God is the One in control.
A renowned leader in his society, Job provided for his family and seemed to have it all together before Satan attacked. In the end, though, he had to accept that God was in charge, even when terrible things happened to him. 
Despite Satan's best efforts, the Lord brings good out of bad situations. We need to take a step back and appreciate the awesomeness and might of our God.
Check out some of our other posts!