The humanity of Jesus Christ has been one of the most controversial topics in the Bible not because it is not true but because it has been assaulted by numerous enemies of the faith. But until now, no one can disprove the humanity of Christ. The Gospel accounts are irrefutable proof that Jesus' humanity is true and undeniable.
The Gospel writers were honest in describing how Jesus felt in different situations. Whether it is as simple as getting tired, hungry or thirsty or as feeling pain, sorrow and even depression, Jesus knew how it feels to be human. The Gospel accounts also gave some details about his childhood. Jesus had a childhood. He did not come into the world as a fully grown adult but as a baby who grew up to be a man and "learned obedience" (Hebrews 5:8). 
While the humanity of Jesus sparked a lot of controversies and issues, it also stirred the curious and sanctified mind. How was Jesus like everyday? Was He a very serious person? Did he have some sense of humor? What was His favorite food? There are countless questions that we can ask Him but we will limit it into just one: What color is Jesus' favorite?
If Jesus had a wardrobe, what color will He always choose? If He was a painter, which color would dominate his works? In the garden, which flower is He most fond of?
In the beginning, God … made things colorful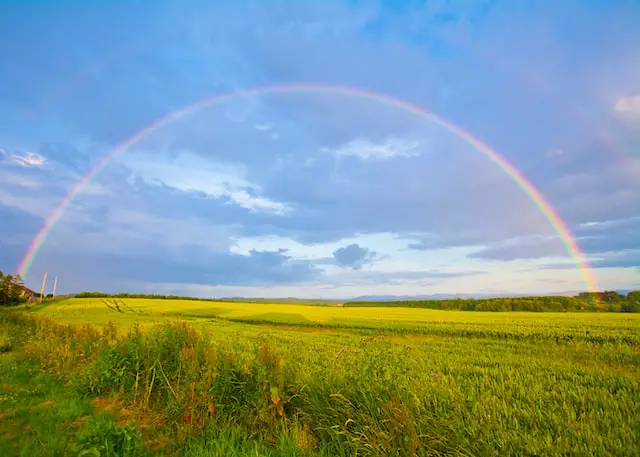 You do not have to go far into the Bible in order to say whether God loves colors because all you have to do is go through the creation account of Genesis and finish through the whole book. Think about this simple truth: God, in all His power, did not create a world that just has black and white as its color. There are many attributes of God and oftentimes we overlook that He is also divinely creative. Imagine looking at the same sky every day but always having a totally different look. God created all things and He was creative in creating all things. His creativity can be clearly seen in the array of colors that the creation has. 
It has always been taught in Scriptures that God was very delighted in creating the world and now it can be proven by the number of colors in all of creation. Surely one cannot conclude that a sad and lonely god created a very vibrant and colorful world? Even the covenant that was made between Himself and Noah was sealed by an arc that has eight different colors. Just by having a quick glance at nature, one will realize that God made things beautiful and He made sure to make them colorful. 
Just a caveat though, God never intended colors to have superstitious meanings. Although, all throughout Bible history, God has specific commands about certain colors of linens and temple hardware. Instead of over spiritualizing the colors, it is best to know what they represent and discover its significance in the Christian faith. When Jesus was still on earth, the Gospel accounts would describe Jesus' clothes as white and was made to be just one piece and not pieces of cloth that were sewn together
White and Light: Holiness and Purity
In the Bible, light has literal and figurative meanings. "Let there be Light" were God's first words when He created the world in the book of Genesis. Aside from originating the word "Light", God is also known as the Light Himself. The Apostle John described Jesus as "The Light" of men and of the whole world. Jesus said it Himself in John 8:12: "I am the light of the world. Whoever follows me will not walk in darkness, but will have the light of life." 
These separate accounts show how God would use "light" as a tool to reveal Himself to His creation or as a symbol to describe Himself to creation. Whenever Jesus would refer to Himself as the Light, it would imply that the world and those who do not believe in Him are living in darkness. In the New Testament accounts, light represents the holiness of Jesus. When He was transfigured, those who saw Him were amazed by the radiance of His face. Apostle Matthew described Him this way: 
"And he was transfigured before them, and his face shone like the sun, and his clothes became white as light." (Matthew 17:2)
Aside from holiness, the white light also represents purity. Priests wear white clothes that represent their personal holiness. In Revelation 19:8, white linens represented the "righteous deeds" of the saints. 
Gold: Priestly and Royalty
In the Bible, particularly in the Old Testament, Gold was used to adorn the garments of the Priests. They were specifically commanded by God to be incorporated in the temple outfit of Priests. It was also used to create the ornaments and fixtures of the Holy Temple. 
In the New Testament, Jesus never wore anything laden with gold. He never wore luxurious items that were made out of gold. In fact, He even warned people for wanting gold more than God Himself. So why should gold be his "favorite" color? Simply because it represents royalty and majesty. When He was still a baby, a group of wise men gave Him gold as a present because they believe that He is the son of God and by that virtue, it makes Him King overall creation. This is why someday, when Jesus Christ comes back, He will be wearing a gold crown. 
Red: Precious Blood
The color red has many symbols in the Bible but usually it represents sin, corrupted flesh and worldly passion. However, despite its negative association, it represents the Savior's precious blood that was shed on the Cross for us. One of the descriptions of Jesus Christ is found in Revelation 19:13. It paints a striking picture of Christ's redemptive work on the cross and the blood that was shed for us. So why would it be Jesus' favorite color? Because the color red is the Gospel's color: It both represents the sin of man and the blood of Christ. 
Ultimately, Jesus was depicted in the Book of Revelation as someone who bears the colors altogether. He is the man that wears a white garment that symbolizes holiness and reflects God's glory. He wears a golden crown that symbolizes His royalty. Finally, the color red represents His finished work. 
Check out some of our other posts!