Leonard Ravenhill once said, "No man is greater than his prayer life." Prayer is powerful because it cuts the biggest problems down to size. It works in ways more than what we imagined. Prayer has great powers because it does not just change the situation of the believer, it changes the believer himself. A life of prayer transforms the believer's thought pattern, heart's desires and way of living. It is impossible for a believer to have genuine faith apart from a constant prayer life. And one of the greatest proofs of the power of prayer is this: Even Jesus prayed.
The Bible shows different passages of instances wherein Jesus was praying to God the Father. It is astounding to see that even someone who is fully God and fully man, Jesus Christ would fully engage in prayer. The intensity of his prayer life does not make Him less of a God and more of a man. Rather, it highlights His deity even more because He was able to bring on Earth the kind of communion He has with the Father. And through His life of prayer, He unleashed its power for every believer and showed just how prayer breaks chains, heals illnesses and empowers everyone to live a righteous life. Let us take a closer look at the reasons Jesus prayed to God and the power it has done in His mission:
Why did Jesus Pray to God?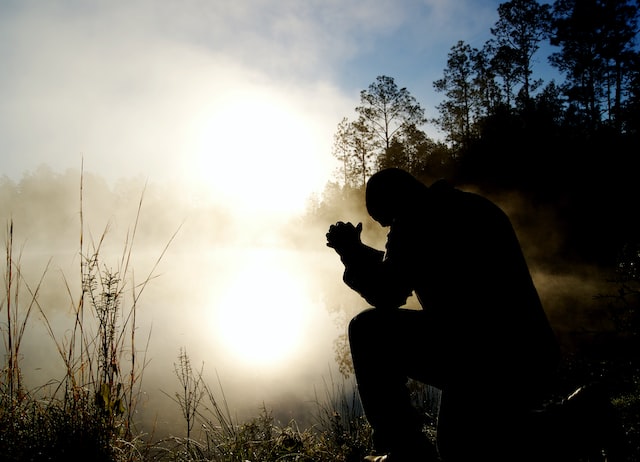 To Strengthen Himself
Luke 3:21-22 21 Now when all the people were baptized,
and when Jesus also had been baptized and was praying,
the heavens were opened, 22 and the Holy Spirit descended on him
in bodily form, like a dove; and a voice came from heaven,
"You are my beloved Son;[a] with you I am well pleased."
Before Jesus started His ministry on Earth, He had given His cousin, John the Baptist, the privilege to baptize him and it was at His prayer, the Holy Spirit fell on Him and God the Father affirmed His identity during His baptism. He needed this to strengthen Him as He starts a mission no one has ever done and will ever surpass. Imagine an athlete preparing for a competition, or a law graduate taking up his bar exam, and a soldier being assigned to war.
These people would not face the battleground without preparing for hours and dedicating their time and effort to succeed in their respective goals. So it is the same with Jesus. Since He knew that His mission could not be done by anyone else, and that this mission will bring God's people back to the Father, He had to gain strength for this tough act. And there is nothing more empowering and edifying for Him than a prayer, a communion with His Father. 
Jesus relied on the power of prayer when He started His mission. He continued to be strengthened through His life of prayer as we would see in many New Testament passages. Before going to places to preach and heal, He would go down on His knees and acknowledge God's power to be upon Him (Mark 1:35-39). It is the same before He called out the twelve disciples among His followers (Luke 6:12, 13). He always made sure that God the Father was involved in making the big decision of appointing the very first leaders of the church. The power of His constant prayer life empowers Jesus to obey the will of God in His life on Earth.
Matthew 14:23 And after he had dismissed the crowds,
He went up on the mountain by himself to pray.
Moreover, Jesus found strength in prayer after His short missions. He did not just sleep off his exhaustion, or dine out with friends to unburden Himself with the long and tiring hours of preaching and teaching the great crowds. Instead, He knelt down in prayer over again. He made sure that He started and ended His tasks on Earth in prayer. This act shows just how much He values communing with the Father to gain and regain the strength He needed to fulfill His Ultimate mission.
To strengthen the current disciples
John 14:16-17 16 And I will ask the Father, and he will give you another Helper,
 to be with you forever, 17 even the Spirit of truth,
whom the world cannot receive, because it neither sees him nor knows him.
You know him, for he dwells with you and will be in you.
Just as Jesus experienced the empowering of the Holy Spirit when He was praying and being baptized, He sincerely prayed to the Father that His disciples would receive the Holy Spirit as well. He knew that it is through praying in faith that one receives the Holy Spirit who guides every believer to the Truth. 
One of the greatest prayers that Jesus prayed to God to strengthen His current disciples was written in John 17, the High Priestly Prayer. Knowing that His mission is about to end, He spoke a powerful prayer that kept them faithful even in the midst of hardest trials and most especially death. Jesus also prayed that God would protect them from the evil one. Jesus reminded his disciples that there is no assurance of safety in this world for they are not of this world.
Instead, their assurance is that God would keep them whose hearts are faithful to Him. The prayer of Jesus to strengthen the current disciples was honored by God. That is why even in the midst of persecution and suffering for their faith, they remained faithful in living for God and preaching who Jesus is and what He has done for us. This powerful prayer ignited the movement that remains victorious now and forever.
To strengthen the future disciples
Hebrews 7:25 Consequently, he is able to save to the uttermost
those who draw near to God through him,
since he always lives to make intercession for them.
Jesus' prayer goes as far as for the future disciples. Just as He has mentioned in John 17 for the Father to keep His treasured Ones, so does He prayed for the preservation of the future saints. Jesus, sitting at the right hand of God, becomes our High Priest. His eternal life and priesthood makes way for His eternal intercession to those who draw near to God through His Name. His powerful prayer results in our complete and eternal salvation.
Check out some of our other posts!