Praying successfully takes practice, and that takes time. If you feel like your prayers aren't making a difference, and you're losing motivation, it's easy to give up altogether. But imagine if your prayer life was active and fruitful. One in which you anticipate the prayer time with joy—will you be able to summon God that way?
This guide will help you learn how to pray more effectively and change your perspective on prayer. Your time with God the Father will blossom into something lovely and rewarding. You won't be afraid of it anymore, but rather excited about it. Remember that now is the moment when you can spend the most quality time with your Maker.
If you agree that your prayer life might need some work (and let's be honest, it could use some work for all of us), then continue. Below, you'll find a breakdown of easy steps toward a more dynamic, meaningful, and fruitful prayer life—one that will allow you to summon God and his advice.
Remember Who You Are Talking To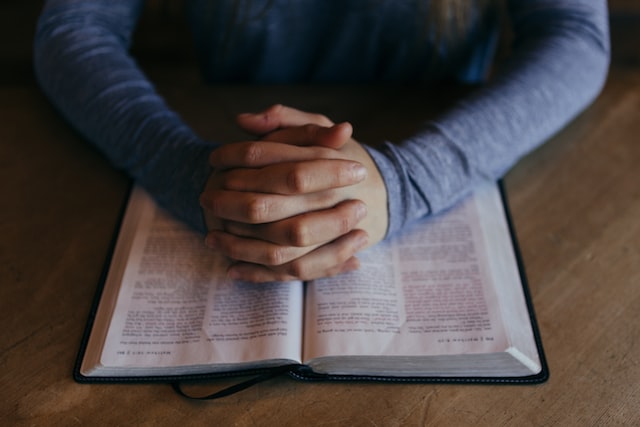 Prayer is a dialogue with God; every discussion starts by acknowledging the one you are communicating with by name. Jesus prays to God the Father, who is in heaven. He calls out the God He calls "Father in Heaven" because of the closeness of their relationship. Everyone has the same privilege of addressing God as "Father," and we all have times when we must have a heart-to-heart with our Daddy God, Abba Father. But God is three different individuals in One: the Father, the Son, and the Holy Spirit.
Determining which member of the Holy Trinity you need to approach might be a beneficial first step. You may talk to Jesus, the best friend who is tighter than a brother and the Savior of the soul. You might also pray to the Holy Spirit, who helps us carry out the work Father God has given us to accomplish. A clear understanding of your listener may help you determine what you want to say and how to communicate it.
Show Your Gratitude.
A sincere expression of gratitude is a wonderful conversation starter. Like any loving father, God is pleased when His children show gratitude. It strengthens our confidence to trust for even bigger answers to prayer when we take the time to appreciate God for everything He has done in the past, including divine intervention, unfathomable circumstances conquered, healings, and grace, among other things. One of the most important parts of our quiet time with God is singing praises to him since doing so unlocks the heavenly gates.
Seek Guidance On God's Will
Jesus's example of putting God's will above his own goals and needs is not limited to the Lord's Prayer. Jesus prayed this same prayer in the Garden of Gethsemane only hours before he was crucified: "not my will, but yours be done."
It might be challenging to comprehend how to pray or what you should ask for in times of difficulty in a society where right and evil are often mashed, and the future is unpredictable. But summon God and see where it takes you. The only thing we can be sure of is that God has a good plan for people who love Him and that the heart of His divine purpose is the safest place we could be.
Communicate What You Require
Jesus didn't think twice about asking God for food, one of the most fundamental necessities of existence in his day. However, we sometimes refrain from going to God for trivial things because we feel he shouldn't be concerned. We exhaust all other options before turning to God for help when serious issues arise.
You don't have what you need because you don't ask God for it. As a result, you should never be afraid to seek God for help in times of need. God the Father is delighted to bestow blessings on His children.
Be Humble And Seek Pardon.
James 5:16 advises that for our petitions to be heard by God, our hearts must first be in the proper place with God and each other.  Give yourself a moment to evaluate your state of heart if you get the impression that your prayers are falling on deaf ears.
Pray With Like-Hearted Christians
When we pray together in Jesus' name, there is strength in our agreement. When you have a pressing concern that you want to bring before the throne of God, it is a good idea to contact a friend and ask them to pray with you. Make finding a reliable prayer partner one of your primary objectives if you do not already have one.
Know The Scriptures By Heart
The ability to grasp our spiritual power in Christ as outlined in the Scriptures is the single most significant factor in cultivating a fruitful prayer practice. A thorough understanding of the Bible is the only way to accomplish this goal. Spending even a little time each day in God's Word will infuse your prayers with power great enough to summon God.
Keep Praying
The act of praying is not like buying something from a store. You can't just type in your question and anticipate getting a response or a solution immediately. More so than offering answers, God works primarily through establishing connections and molding hearts.
God longs to have a relationship with you, and he will utilize the time you spend praying to begin to work in your heart. Even though it can appear as though your prayer isn't being heard, God is hard at work in your heart, forming and refining you into the person he has in mind for you to become.
God also has great goals. He operates on a more expansive scale than any of us could ever hope to fathom. It may take some time for him to conduct all the moving parts that need to converge to provide a complete response to your request. Trust that God is at work in his manner, in his timetable, and to his glory, even if you may not see the activity in the short term.
Therefore, do not become discouraged in your efforts to pray. Even if your prayers seem to be going nowhere, keep insisting on them. Maintain your faith that God is active in the world, and pray continually. Someday, somehow, you will be able to summon God and ask for His advice.
Check out some of our other posts!