How often do you stop to consider the depth of God's love for us? Do you believe that God's love for you is lessened whenever you make a mistake, receive His reprimand, or go through a difficult time? Is God's love for us unconditional? God's love is limitless, unconditional, and all-encompassing, and the Bible verses concerning God's love and the love of Jesus Christ will demonstrate this to us.
First Things First: What Is Love?
"Love is patient, love is kind. It does not envy, it does not boast, it is not proud. It is not rude, it is not self-seeking, it is not easily angered, it keeps no record of wrongs. Love does not delight in evil but rejoices with the truth. It always protects, always trusts, always hopes, always perseveres. Love never fails." (1 Corinthians 13:4–8)
Our relationships with God, with others, and with ourselves are all harmonized by love. For Christians, love is our calling card.
Love is a complex concept. Commonly, it refers to a strong emotion of profound affection. From a biblical perspective, love is more than just an emotion; it has a far deeper and more fundamental significance. We find this in 1 Corinthians 13. Paul explains that love is more than just a warm fuzzy sensation; it's a conscious choice to put other people before yourself.
Even though most of us have some familiarity with 1 Corinthians 13, reading it slowly allows us to appreciate its understated beauty. Paul employs creative symmetry to underscore his message in this ageless piece on love. There are eight things love accepts and eight things it rejects, according to his rundown.
| | | | |
| --- | --- | --- | --- |
| Love champions… | …from the line… | Love Renounces… | …from the line… |
| Patience | "is patient" | Envy | "isn't envious" |
| Kindness | "is kind" | Boasting | "isn't boastful" |
| Truth | "rejoices with the truth" | Hubris | "isn't arrogant" |
| Strength | "bears all things" | Rudeness | "isn't rude" |
| Faith | "believes all things" | Self-centeredness | "doesn't insist on its own way" |
| Hope | "hopes all things" | Anger | "isn't irritable" |
| Resilience | "endures all things" | Resentment | "isn't resentful" |
| Determination | "never fails" | Sin | "doesn't rejoice in wrongdoing" |
Paul gives us some advice here on what to keep and what to let go of. Through him, we are equipped with a framework for responding to any circumstance with love. There will be times when we have to step outside of our usual routines and resist the urge to do what comes easily. In either case, love gives us the strength to act against our emotions, allowing us to bring vitality to those around us.
The Strength of God's love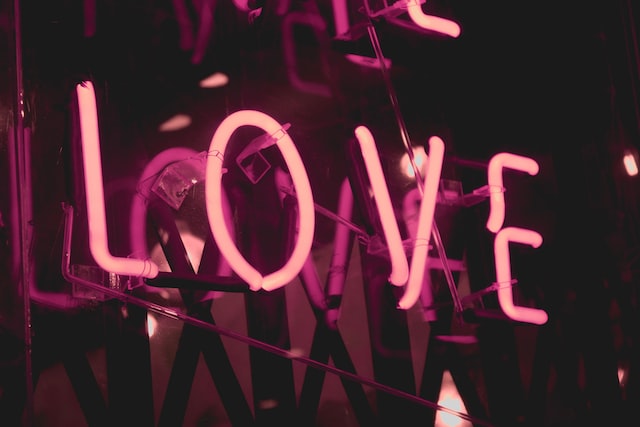 John 3:16 is one of the most quoted verses in the Bible:
"For God so loved the world that He gave His only begotten Son, that whoever believes in Him should not perish but have everlasting life."
It was because of Adam and Eve's disobedience in the Garden of Eden that we were all doomed to sin and cast out from God's presence. But despite this, His love for us remained, and He sought reconciliation with us. Therefore, He sacrificed His one and only Son, who was holy and righteous, for our sins.
Jesus Christ's sacrifice on the cross ended the conflict between God's people and Himself, bringing forth a new and harmonious relationship between the two. All of us have been declared holy. All of us here are brand-new creations. This is the potency of God's love for us as His people. God's love for us is unconditional, and He proved it on the cross.
Does God truly love us no matter what?
Those who have wondered, "Does God love me no matter what?" should take comfort in knowing that the answer is yes. When we disobey God, we may feel that He no longer loves us. But God is perfect, and He cannot possibly stop loving us. When we suffer, it's easy to question God's love for us since it's difficult to believe that our suffering serves a greater purpose.
God is the teacher of love. We can't teach him how to love. Having become His children, we will always be His children. Despite our transgressions, God is still a loving Father who will forgive us if we come to Him. He awaits us with open arms, eager to shower us with love. The love God has for us is boundless, infinite, and exhaustive. His affection for you has nothing to do with what you do.
Why Does God Love Us?
Even though it's only a few words long, this question is up there among the most thought-provoking of all time. And no person on Earth could provide a satisfactory response. But one thing is for sure, God's love for us has nothing to do with how lovable we are or how deserving we are of His affection. The opposite holds true. Humanity has been in a constant state of disobedience and revolt ever since the fall.
The spiritual state of man is summed up in Jeremiah 17:9: "The heart is deceitful and desperately wicked. Who can know it?"
The corruption of sin into our very selves is so great that we are blind to it. We are not God-seekers, God-lovers, or God-desirers in our natural states. The unrighteous, primordial condition of man is laid bare in Romans 3:12:
"There is none righteous, no, not one; There is none who understands; There is none who seeks after God. They have all turned aside; They have together become unprofitable; There is none who does good, no, not one." 
The question then arises as to how a God who is holy, just, and perfect can love such imperfect beings. This can only be grasped through gaining insight into God's essence and character.
God is Love
God is love, according to 1 John 4:8 and 16. The statement "God is love" may be the most significant claim ever made. This is a really deep assertion. God is not only loving; He is love itself. His being, his very core, is love. His fury and rage are fueled by the love that pervades every inch of his body.
God must show love since love is God's fundamental essence; just as God must show off all of His traits to bring glory to Himself. The act of honoring God is the pinnacle, the summit of excellence, and the apex of nobility; thus, it is only fitting that God should want to glorify Himself, as He is the pinnacle, the apex of excellence, and the deserving owner of all praise.
God's very essence is love, and thus He shows His love by showering it on those who are stubborn against Him even though they don't deserve it. Divine love is not mushy and emotional. Instead, it is selfless love or agape. 
This sacrificial love is on display in the fact that He sent His Son to die for our sins, that He draws us to Himself, that He forgives our disobedience against Him, and that He sends His Holy Spirit to reside within us, empowering us to love as He does. He did this knowing full well that we were not deserving of it.
Unlike human love, God's is deeply personal. He has an intimate familiarity with and affection for all of us. His love is infinite in its capacity to protect and comfort. Christianity is unique among world faiths because of the way its believers experience God's love. Exactly what is it about us that causes God to love us? For the simple reason that "God is love."
Check out some of our other posts!