A disciplined life is something that many individuals would like to learn more about. The issue is that many people begin such endeavors but then give up halfway through. They claim that God created them this way, therefore everyone ought to simply accept them. But God would never allow you to pass up a chance to better yourself.
Self-discipline is defined as the "correction or control of oneself for the goal of betterment" in the dictionary. Celebrities, sportsmen, and successful businesspeople are often held up as examples of self-discipline because they have reached a level of accomplishment that most people never do. How then do we, as regular people, train ourselves to become disciplined and self-reliant?
How to Cultivate Self-Discipline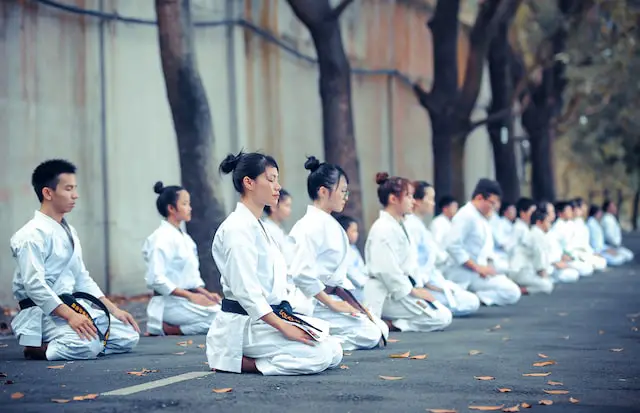 Some people wonder why practicing self-control is so hard. Self-discipline is difficult in and of itself, but we make it even more so when we try to do it without God. There are times when we believe we can handle things on our own and wait until we've completely exhausted all other options before turning to God.
When we try to handle situations on our own, we always fail. When we take action apart from God, we either increase the likelihood of failure or lengthen the path to success. We already have God's strength and power inside us, but how can we learn to control ourselves?
Focus on Your Mission and Make a Vow to God
There must be a target in sight for all of your development efforts. Paul wrote this epistle to the Philippian church, as Philippians 3:12-14 indicates. He had reached a stage in his life where he had done a lot for his ministry. Paul spread the gospel throughout the known globe, founded several churches, and brought many people to Christ as a result.
Although he had already done a lot for God, he felt he could do more. Not worried about his past achievements, he looked forward to what God still had in store for him. Like Paul, God urges us to keep moving forward, both spiritually and in other areas of life, toward our objective.
Any endeavor requiring self-control requires a motivating target to keep us going when things become tough. Whether it's getting back into school to get your degree or finally reaching your ideal weight, Christians are asked to draw on the strength of the Holy Spirit inside them to maintain the self-control necessary to reach their goals. When we tell God what we're trying to do, we gain inspiration and the discipline to see it through.
Stop Putting Things Off
Time is the single resource we have that we can never get back after it has been used, which is why the adage "procrastination is the thief of time" rings so true. Proverbs 14:23 says that all effort yields a reward, but idle chatter leads only to lack.
Talking about one's plans has never led to success. Instead, they rely on their self-control to make all their hopes and ambitions a reality. It is much more true when discussing spiritual goals. When we feel least like praying, attending church, or forgiving others, that's exactly when we need to be the most consistent.
As we persevere through trials like these, we develop character traits like spiritual fortitude and self-control. More good will come our way if we can just quit putting things off and go to work on the things God has put on our hearts.
Plan to Put in Effort
To practice self-discipline, you need to put in the effort, which is precisely what the vast majority of us strive to avoid at all costs. In other words, we were not given a free pass from God in terms of effort. He sent the Holy Spirit to dwell inside us, making the task at hand appear less daunting.
We Christians will go through life in some of the same ways as the world does but in other ways. Since God is on our side, even the most challenging tasks may be accomplished with a sense of calm confidence.
Self-disciplined one never has to worry about winning. They are relentless in their pursuit of success. They dedicate their lives to serving God, and they do whatever they do to bring honor to Him.
Eliminate All Distractions
Recognizing potential roadblocks on the path to developing self-discipline is essential. Since a great company of witnesses is always watching over us (Hebrews 12:1), let us forget the things that slow us down and press on toward the goal God has set before us.
Once you've figured out what's getting in your way, it's time to start doing what you can to stop it. As an illustration, if you find that being around specific individuals or visiting certain locations is a source of distraction, you may want to steer clear of them. 
Sometimes, the only solution is to disconnect all of your equipment or temporarily ban that one person who sends you SMS all day long. This will be difficult at first, but that's just the beginning of your road to greater self-control.
Monitor Your Growth
As Christians, cultivating self-discipline is an integral element of maturing in Christ and, as such, should permeate every facet of our lives. It's important to keep tabs on our development and give ourselves rewards along the road. It's also important to remember that this won't be a straightforward procedure.
You can't be too hard on yourself if you don't achieve all of your self-discipline objectives immediately. Though you shouldn't aim for it, you should always be ready for a detour. If you get off track, don't feel bad about it; even Paul had off days. Only if you give up and give up are you a failure. Recognizing the obstacle, getting back up, seeking God's wisdom, and continuing are the steps that will lead to success.
Keeping tabs on your progress might serve as a source of inspiration to spur you on in the correct way. Observing what God has already accomplished and anticipating what He will do next is awe-inspiring.
Where Can We Find Biblical Advice on Discipline?
The lack of self-control typical of non-believers is not an option for Christians. There is no way for us to just accept our current circumstances and go on. The teachings of the Bible on the importance of self-control leave no room for laziness.
According to Paul's epistle to Timothy, God's Spirit does not make us frightened but rather gives us strength, love, and self-control. By surrendering our life to God, we receive the indwelling of the Holy Spirit and the supernatural power and assistance to do what would otherwise be impossible. Self-control is a part of it.
Self-discipline is included in the list of fruits Christians will bear as they mature in their relationship with God which is provided in Galatians 5:22-23. True self-discipline and self-control come from the spirit of God inside us.
Self-discipline is a skill that can be learned, even though we have the Holy Spirit to aid us. Peter tells us in 2 Peter 1:3 that our access to the knowledge of God is a result of His almighty power. In His majesty and perfection, He beckoned us. Our knowledge of God has equipped us with all we need to successfully lead Christian lives.
However, we need to study the Bible to discover what God says about our lives and where He believes we need more self-control. Ultimately, it was the Holy Spirit who taught Paul the discipline of contentment, as he described it in his epistle to the Philippians.
Check out some of our other posts!
Why Christians Fast: The Biblical Reasons Behind Fasting