Regrets are a painful reality of life. Everybody has moments when they wish they could go back and change something or undo something they did. Regrets can be particularly challenging for us Christians to live with since we must reconcile our behavior with our faith and beliefs. 
Feelings of guilt, humiliation, and inadequacy — these are the common results of dealing with regret.
In this article, we will look at how Christians might move forward from regrets through repentance and acceptance. This will be accomplished by looking at biblical principles that can assist us in comprehending how to deal with and get over regrets. We'll also examine realistic approaches to help us step toward the direction of recovery and restoration.
The primary goal of this discussion is to help Christians who are dealing with regrets achieve peace, forgiveness, and a fresh sense of purpose.
Recognizing and Acknowledging Regrets
How Christians deal with regrets begins with recognizing and acknowledging their existence. When we've committed sin and carry regrets as a result, oftentimes, we try to hide the burden that comes with them. However, doing so simply makes them worse and makes it more difficult for us to gain freedom. As Christians, we should instead accept responsibility for our actions and repent.
Regrets can have a significant impact on our mental and emotional well-being. They can affect our self-esteem, our relationships, and our overall sense of purpose. When we learn to acknowledge the impact of our regrets, we get to understand the importance of addressing them and seeking forgiveness.
The passage from Psalm 51:3 saying "For I know my transgressions, and my sin is ever before me" serves as a reminder that we should not try to hide our regrets from God because He sees the depths of our hearts. 
This is a powerful reminder that we should acknowledge our regrets before God and that we should be honest and transparent with Him. It is only by confessing our regrets to God that we can find forgiveness and healing. When we confess our regrets, we are acknowledging that we have fallen short and that we need God's help to overcome them.
Godly Sorrow Versus Regrets
Regret is not all bad. Regret makes us reconsider our choices and encourages us to avoid repeating the same errors. We discover more about ourselves and our true desires via our regrets. We become clear about the outcome and the things we actually desire for ourselves as a result of regret.

For regret to benefit a Christian, however, it must be accompanied by godly sorrow and not just mere remorse. 2 Corinthians 7:10 helps us to understand the difference between Godly sorrow and worldly remorse. It says, "Godly sorrow brings repentance that leads to salvation and leaves no regret, but worldly sorrow brings death." This verse reminds us that Godly sorrow leads to repentance and salvation, while worldly sorrow leads to death.
Godly grief is crucial for handling regrets because it enables us to comprehend how our acts affect both ourselves and other people. It enables us to own our mistakes and accept accountability for our deeds. It also enables us to recognize our need for mercy and to ask for it from both God and others we have mistreated.
Additionally, Godly sorrow leads to a change in behavior, it helps us to turn away from our sins and to turn towards God. It brings about a deep understanding of God's love and grace, which leads to a renewed sense of purpose and a desire to live a life that is pleasing to God.
In the midst of regrets, godly sorrow enables us to discover peace and healing. It enables us to feel God's forgiveness and love while letting go of our sense of guilt and humiliation. This gives us a feeling of freedom that will enable us to go forward with optimism and purpose.
The Importance of Accepting God's Forgiveness
Accepting God's forgiveness is a vital step on how Christians deal with regrets. It is important to remember that when we seek forgiveness, God is faithful and just to forgive us and cleanse us from all unrighteousness (1 John 1:9). When we accept God's forgiveness, we are able to let go of the guilt and shame that often accompany regrets and experience peace and healing in our hearts.
Consider the kindness and grace that God shows us as a means to accept his forgiveness. It is easier to accept God's forgiveness and let go of our regrets when we consider the extent of his love for us. In the midst of our regrets, this compassion and grace will help us in finding peace and healing.
Colossians 2:13–14 serves as a reminder that God has pardoned all of our transgressions by wiping out the record of debt that was brought up against us with its legal demands. It reminds us that God has provided a way for our forgiveness and that, through Jesus, we have been brought back from death to life. 
That said, if you are Christian, accepting God's forgiveness is an essential step in dealing with regrets. It can bring peace and healing to your heart, and help you to let go of the guilt and shame that often accompany regrets. 
Moving Forward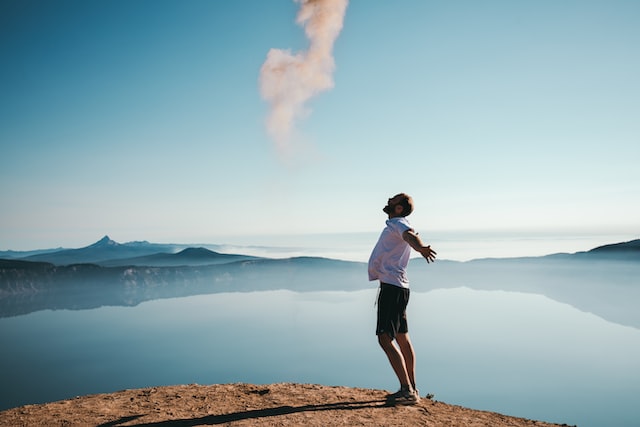 Moving forward from regrets is an important step in the healing process. While it may be difficult to let go of past mistakes and regrets, it is essential for Christians to understand that regrets can be used as a learning opportunity. By using regrets as a learning opportunity, Christians can gain insight into their actions, and make changes to prevent similar mistakes in the future.
The Bible verse Philippians 3:13-14 provides guidance on how to move forward from regrets. This verse reminds us that we should forget what is behind and strain toward what is ahead. It encourages us to press on towards the goal to win the prize for which God has called us heavenward in Christ Jesus. This verse can be used as an example to encourage Christians to let go of the past and focus on the future.
It is important to remember that moving forward from regrets does not mean forgetting about them. Instead, it means acknowledging them, learning from them and using them as a springboard for personal growth and development. Christians should strive to make the most of every opportunity and to use their regrets as a learning opportunity to grow in their faith and to become the person that God has called them to be.
God is a God of a Million Chances
Dealing with regrets can be a difficult and challenging process, especially for us Christians. However, having regrets is as inevitable as sinning or making wrong decisions in life. The good news is that there are ways for us Christians to deal with regrets, find forgiveness, and move forward. 
Recognizing and acknowledging regrets, seeking forgiveness, accepting God's forgiveness, and moving forward with a renewed sense of purpose are all important steps in the process of dealing with regrets. By understanding the biblical principles that guide us in this process, and by utilizing practical tools and strategies, we can find peace and healing in the midst of our regrets. 
Additionally, understanding the concept of Godly sorrow, and how it differs from worldly sorrow, is important to help us to understand the impact of our actions, take responsibility for them, seek forgiveness, change our behavior, find peace, healing and a renewed sense of purpose. 
We should remember that God is always ready to forgive and restore, and that we should seek His guidance and help throughout this process. At the end of the day, you'd want to say along with Paul: "I have fought the good fight, I have finished the race, I have kept the faith."
Check out some of our other posts!